The homepage
The overview of the site
The list of first names
The photo gallery
The next page
The previous page
Searching this site



Questions or comments


Nederlandse pagina's
By clicking an underlined
name in the text you can
jump to the overview of
the Breyell family.
Afterwards you can return
to this page by clicking
the "Back" key.

If you notice any lacks of
clarity in the English texts,
or if you have any
linguistic suggestions,
please inform me.
Johann Heinrich Beijen
Johann Heinrich Beijen (4.1), a son of Mathias Beijen who was mentioned at the end of the previous page, was born in 1842 in Breyell. In 1870 he married Victoria Hormes. According to the register of marriages he was a farm-hand. After their wedding Johann and Victoria lived in the neighbouring towns of Leuth and Kaldenkirchen.
In 1887 Johann and Victoria moved to the Netherlands: they settled in Venlo, just at the Dutch side of the border. In the inhabitants' register Johann was listed as a workman en later as a fruit merchant.
In 1903 Johann and Victoria moved back to Germany (Leuth). It is not yet found in which years they died.
Peter Michael Beijen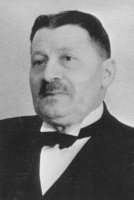 Peter Michael Beijen (5.1), who was the only son of Johann and Victoria, was born in 1872 in Leuth. In 1900 Peter married Anna Maria Gubbels, who had been born in 's-Hertogenbosch, but was living in Nijmegen.

After their wedding Peter and Anna lived in Venlo until 1907. After a short stay in Peter's birth town Leuth they moved in 1908 back to the Netherlands. They lived in Nijmegen for the rest of their lives. Peter worked as a waiter in cafés and restaurants.
Anna died in 1949, Peter in 1950. Pictures of them are shown above; Peter's death announcement is shown on the right.

The next page provides information about the children of Peter and Anna and their descendants.